What are the essential elements for test tube moulding?
Views:0 Author:Site Editor Publish Time: 2020-07-03 Origin:Site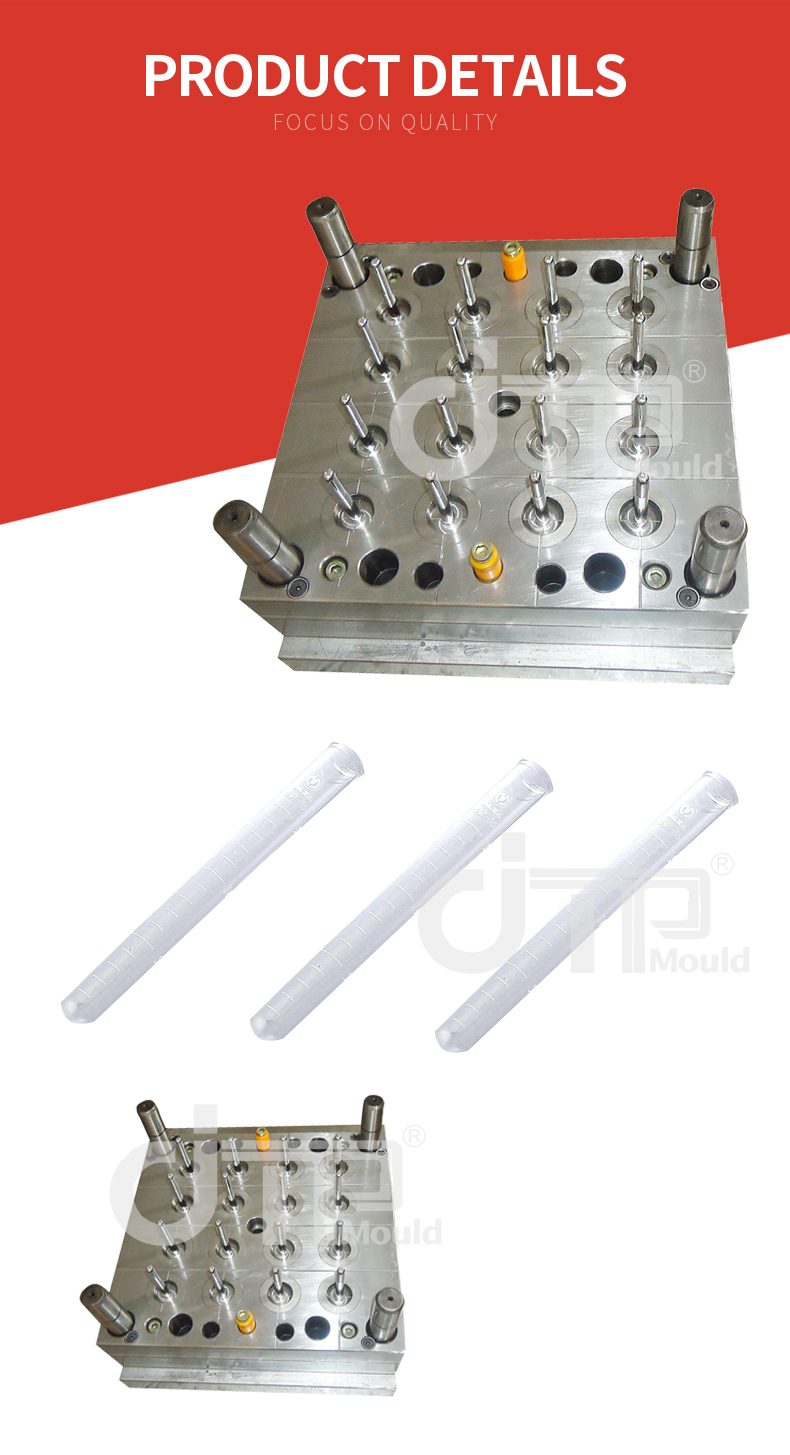 Plastic medical products are common in the market. Plastic parts, including laboratory supplies and medical equipment. The most commonly used molds are: tube mold, straw head mold, petri dish mold, centrifugal tube mold, plastic dentist box mold, medicine cup mold and so on. We use advanced technology and experienced industry engineers and professionals to manufacture high-quality medical products mold. We provide excellent product design, improve production efficiency and ensure that our customers are the most competitive. The following articles will tell you more.
Here are the main points of the article:
What are the features of the test tube moulds?
Why do we use plastic injection moulds for test tube moulds?
Where do we use plastic injection moulds for test tube moulds?
1. What are the features of the test tube moulds?
Long mold life, good quality - to ensure at least 1 million injection mold life; Excellent polishing performance ensures a high transparency of the vessel surface.
Lower "life cycle cost" -- the hot runner gate system, which ensures a beautiful gate sign, will save a lot of material costs because there is no spruce or runner waste.
Mature test tube mold design structure - optimized cooling system and exhaust system. Our design team has at least 10 years of creative and original design experience.
Easy mold maintenance - each cavity of the vascular cavity/core insert is interchangeable by standardized tool machines. We will provide you with spare parts for core and cavity inserts to help you resume production in the shortest possible time.
Dynamic manufacturing - according to the test tube mold information, when selecting the appropriate injection molding machine, the injection volume, clamping force, the distance between the rod and the ejection stroke, and other information are required.
2. Why do we use plastic injection moulds for test tube moulds?
Plastic injection molding is any tool made of all or part of a plastic material (excluding industrial thermosetting laminates) in which plastics contribute greatly to the use of the tool. These range from tools made entirely of plastic to metal tools to tools that use plastic working surfaces. There is only one proper way to evaluate the suitability of plastics as tools. That is to say, plastics are an independent family of engineered materials with a unique combination of engineering properties that indicate the behavior of the material under specific conditions of use. Under certain conditions, plastics provide outstanding benefits, such as lower cost, faster production of plastic injection molds, etc. In other cases, they should not be used. The success or failure of a particular test tube mold depends entirely on the plastic mold manufacturer's knowledge of the design requirements of the injection mold and the properties of the plastic material.
3. Where do we use plastic injection moulds for test tube moulds?
If you will, imagine a plastic mold manufacturer specifying a material for test tube mould manufacturing detail. He is well aware of his steel position in making test tube moulds. He has materials on hand that give him weight, features and cost. He also had his own experience of what to expect from a particular metal. On the other hand, he knew little about plastic as a mold material. Of course, he would specify what he knew best. Familiarity with plastics is relatively easy; It is more difficult to understand them so that their full capabilities can be realized. In the growing family of plastics, each member offers a relatively wide range of properties; But within each group, specific types provide more specific combinations of attributes. In the use of metals, a standard alloy may be specified which is supplied within the guaranteed composition limits and usually of the guaranteed minimum strength. There is no such standard grade for specifying and using plastics. In addition, in most cases, processed plastics are produced locally; That is, the resin is catalyzed and cured in the workshop to form the final shape of the tool. Because the formulation, catalysis, manufacture and curing of the material largely determine the ultimate performance of the material, the plastic mold manufacturing engineer must have a deeper understanding of the plastic technology than the metal engineer. Test tube mould making engineers who are not familiar with plastic should work closely with material suppliers from the beginning. Reliable, renewable physical properties can be obtained from plastics, but only from properly treated materials. Epoxy is the most widely used tool plastic. They provide a good balance of physical and mechanical properties, low shrinkage, and enhanced compatibility with fiberglass. Other plastic products cannot be ignored. If used correctly, many of them can provide unique processing advantages for many plastic injection molding companies.
We provide test tube mould production line and customized blood tube molding solutions. Mature test tube mould production line includes test tube mold, vascular injection molding machine and some auxiliary equipment, if you want more detail about household mould and packaging mould.contact us now!